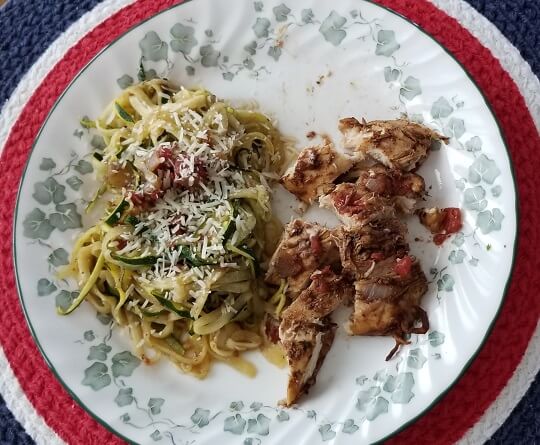 This is one of my favorite dishes and it is super easy to fix. It tastes delicious and is low on carbs!  I slightly tweaked the original recipe for Balsamic Chicken from All Recipes.
Ingredients
Boneless chicken breast. I use 2 large breasts trimmed in half lengthwise to make 4 servings. You can use up to 6 chicken breasts
1 tsp garlic salt
ground black pepper to taste
2 tablespoons olive oil
1 onion, thinly sliced
1 (14.5 ounce) can diced tomatoes or fresh tomatoes diced
1 small can of sliced mushrooms or fresh mushrooms sliced
1/2 cup balsamic vinegar
1 tablespoon Italian Seasoning Mix
1 tsp of sugar (optional)
Side Dish of Zucchini Pasta Ingredients
2 zucchinis
2 tablespoons olive oil
Directions
Season both sides of the chicken breasts with garlic salt and pepper.
Heat olive oil in a skillet over medium heat; cook seasoned chicken breasts until chicken is browned, 3 to 4 minutes per side. Add onion and mushrooms; cook and stir until onion is browned, 3 to 4 minutes.
Pour diced tomatoes and balsamic vinegar over chicken; season with Italian Seasoning Spice Mix. Simmer until chicken is no longer pink and the juices run clear, about 15 minutes. Make sure you give this a quick taste, sometimes it can be somewhat bitter, if that is the case, toss in a teaspoon of sugar.
Directions for Zucchini Pasta Side Dish
Heat olive oil in separate skillet.
Prepare zucchini with spiralizer and add to skillet and toss for 4-5 minutes.
Serve alongside the chicken covering the zucchini with the sauce and tomatoes.
Enjoy – you are going to love it!
References:  Original recipe revised from https://www.allrecipes.com/recipe/8665/braised-balsamic-chicken/