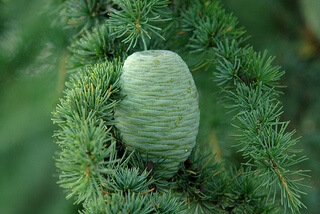 Cedarwood Atlas essential oil (Cedrus atlantica) comes from the wood, stumps or the sawdust of the tree. It is obtained through the process of steam distillation. The best qualify essential oil is actually obtained by distilling the wood chips. Many say that Cedarwood Atlas is thought to have been the tree used by the Egyptians for embalming and cosmetic purposes. In fact these tress were mentioned in the bible and symbolized fertility and abundance. To me it has a woodsy, herbal, cedar scent. This is one of my favorite oils to use. I find it very grounding and I find it always pulls me back to find my center.  It offers a wide variety of benefits from the respiratory system to skin care.
Cedarwood Atlas is a very safe oil to use and has a surprisingly long shelf life if stored properly. Tisserand also found no known contraindications. Cedarwood Atlas essential oil is from the sesquiterpene family. Essential oils in the sesquiterpene family vary slightly as far as benefits. It is important to look at each individual oil for its specific benefits. Many oils in the sesquiterpene family do offer anti-inflammatory, antibacterial, antiseptic, analgesic, and antispasmodic properties.
Traditional Uses of Cedarwood Atlas Essential Oil
Cedarwood Atlas has a wide variety of uses. It works great as an expectorant, helping to dissolve thick mucous. These properties can be very beneficial for any concern affecting the lungs such as bronchitis, congestion, and coughs. It also works great in skincare because it has antiseptic and anti-bacterial properties. These properties make it helpful for oily skin, acne, and dandruff including red patchy areas on the scalp.  Cedarwood Atlas is a powerful tonic, especially for the lower back, kidneys, and adrenals. This oil works wonderfully for stress, anxiety and tension because it has a very calming and grounding effect. If you are having trouble keeping focused or with concentration, you will also enjoy this oil. I love it and find it to be a very warming essential oil that brings one comfort and strength.
Using Cedarwood Atlas
You can use Cedarwood Atlas in a massage oil blend, as a compress, in the bath, added to skincare products, direct inhalation or with a diffuser.
Relaxing Massage Oil Blend – Create this amazing relaxing stress-relieving massage oil blend. Take 1 ounce of your favorite carrier oil. Many people use a light oil such as sunflower, jojoba or apricot kernel. Add 4 drops of Cedarwood Atlas, 4 drops of Lavender, and 4 drops of Bergamot essential oil. This is one of my favorite blends to relax. Mix together and massage away. Feel free to adjust the number of drops per oil based on your preference for its scent. Just a heads up, you may fall asleep during this massage!
Breathe Diffuser Blend – Add 3 drops of Cedarwood Atlas and 2 drops of Lemon or Sweet Orange essential oil to your diffuser.
Cedarwood Essential oil is used in the following AskMara Aroma Products: Chest Salve, Chill Out Roll On, and Focus Aroma Inhaler.
You can purchase Cedarwood Essential oil by Visiting my NSP Website. In fact, it is part of their Essential Oil Starter Kit.
Remember to follow suggested safety practices when using essential oils.
References:
Battaglia, Salvatore. The Complete Guide to Aromatherapy. Brisbane: International Centre of Holistic Aromatherapy, 2003. Print.
"Essential Oils, Body Butters, Carriers, Hydrosols." Aromatherapy Pure, Organic Essential Oils | Aromatics International. N.p., n.d. Web. 30 Nov 2016. <https://www.aromatics.com/>.
Pressimone, Jennifer. Holistic Aromatherapy Comprehensive Guide, JennScents, Inc: 2015. Print.