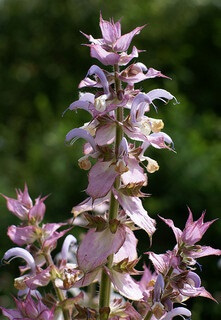 Clary Sage essential oil (Salvia sclarea) comes from the flowers, buds and leaves of the perennial plant. It is obtained through the process of steam distillation. Clary Sage is a perennial plant which is commonly grown for its use as an essential oil. Some say Clary Sage was often used as a substitute for hops when brewing beer. I find that Clary Sage has a very strong herbaceous and woodsy scent. Some people, with its deep scent, can pick up a little floral tone with it. It is a very calming and balancing oil and has been used for centuries as a woman's balancing tonic for a variety of needs.
Clary Sage essential oil is very safe. Some women, however, have noticed an increase in their menstrual flow when used during menstruation. It should be noted that there is no scientific evidence to suggest this increase in menstrual flow exists. Some sources also say that this oil is not recommended for use during pregnancy and has estrogen mimicking properties and should be avoided if you have estrogen dominant cancers.  Tisserand did not mention this, he believes that there are no known contraindications for the use of this essential oil.
Clary Sage essential oil is an ester and has a high content of linalyl acetate. These properties are what gives clary sage its relaxing and anti-spasmodic properties. It also has antidepressant, deodorant, emmenagogue, nervine, sedative, and tonic properties.
Traditional Uses of Clary Sage Essential Oil
Clary sage has many uses. Clary sage is a great tonic for the nervous system because it is balancing. It can help you relax while offering you restorative support at the same time. It has helped many manage stress, anxiety and nervousness. Those who deal with minor depression have also found it to be uplifting. Since it supports the nervous system, I like to use it sometimes in creams I make for nerve and muscle pain.
Clary Sage makes a great womens remedy. It has helped many women manage symptoms from PMS through Menopause! It has been useful for helping with menstrual cramps, as an emmenagogue for scant menstruation, and aids with the symptoms of menopause especially when blended with geranium. Clary sage is also beneficial for oily skin because it is balancing to the sebum. If you have asthma you might find it helpful for relaxing your bronchial spasms. This is definitely another favorite oil of mine!
Using Clary Sage
Clary Sage is great to use in the bath, with massage, as a compress on the skin, direct inhalation or with a diffuser.  Since Clary Sage is a women's favorite, I would think a rub for the abdomen for cramp relief and a spray blend for sleep would be useful.
Cramp Relief – Make a lotion. Take 1 ounce of your favorite unscented lotion and add 4 drops of Bergamot essential oil, 4 drops of Sweet Orange essential oil, and 4 drops of Clary Sage essential oil. Mix together and apply to your back or abdomen. You can adjust the amount of drops per oil based on your preference for its scent.
Sleepy Time Spray:  To make a spray, grab a 2 oz mister bottle and fill it with distilled water. Then add 6 drops of clary sage and 6 drops of lavender essential oil. Shake and spray your pillow or your room.  Sleep tight!
Clary Sage Essential Oil is in the following Aromatherapy Products: Sleep Tight Foot Salve and Woman's Balance Roll On.
You can purchase Clary Sage Essential oil by Visiting my NSP Website. In fact it is part of their Essential Oil Starter Kit.
Remember to follow suggested safety practices when using essential oils.
References:
Battaglia, Salvatore. The Complete Guide to Aromatherapy. Brisbane: International Centre of Holistic Aromatherapy, 2003. Print.
"Essential Oils, Body Butters, Carriers, Hydrosols." Aromatherapy Pure, Organic Essential Oils | Aromatics International. N.p., n.d. Web. 30 Nov 2016. <https://www.aromatics.com/>.
Pressimone, Jennifer. Holistic Aromatherapy Comprehensive Guide, JennScents, Inc: 2015. Print.