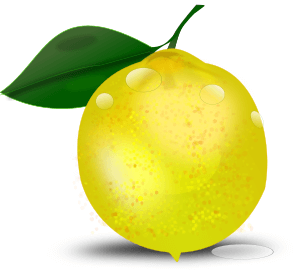 Lemon Essential Oil – (Citrus limon) comes from the fruit's peel. It is usually cold pressed.  Lemon has a bright uplifting smell which I find very energizing and always makes me think of cleaning! It also brings me to daydream of a bright sunny day no matter what the weather's like! Many of you are familiar with its smell since we tend to use lemons in our drinking water for flavor and when we cook in a variety of dishes. Lemon was also a native to Asia and is grown throughout Europe and US.
Lemon oil is safe and non-toxic. You do however have to keep track of how much you use, especially in a skin application because if used at too high of a dilution it can be phototoxic.  I like to make sure I use no more than 6-8 drops per ounce.
Lemon essential oil is high in limonene. It is best known for its analgesic, antimicrobial, antiseptic, antispasmodic, antibacterial, diuretic, fungicide, insecticide properties. Lemon also has some astringent, cicatrisant and tonic properties.
Traditional Uses of Lemon
Lemon is a very versatile oil. This oil is very energizing promoting alertness and focus, yet it helps calm you when you are angry. It has been used in skin care for varicose veins, acne, cellulite, and for anti-aging (remember, too much becomes phototoxic). It has also been used to help with circulation and congestion throughout the body including the lymph system. The Chi Machine is also beneficial to both the circulatory and lymphatic system due to its movement. Lemon is a great oil for detoxification. It has been used to support the immune system during times of colds, bronchitis, and the flu. It has also been used for emotional support to bring clarity to the mind, allowing one to focus and make decisions. I love Lemon Essential Oil it is a must have oil. Think of how much you can do with Lemon!
Using Lemon
Lemon is great to add to any type of room freshener or natural cleaning product. You can apply it topically with skin care or massage. You can use some in the bath blended with some bath salts. Lemon can also be diffused or used through direct inhalation.
Natural Cleaning Product made with Lemon Essential Oil
I have always been conscious of using natural cleaning products. I mean part of detoxification is to limit your exposure to toxins. My favorite cleaning base is Nature's Sunshine Essential Shield.
I can mix up a 32 oz bottle with Water (some vinegar about 1/4 of a cup if you want) and 1-2 tsps of Sunshine Concentrate. I then add about 40-50 drops of essential oil.  You can definitely use all lemon essential oil. However, you can also split the drops between two or 3 oils using Tea Tree, Lavender, Peppermint, or Sweet Orange. Once you are through, you have a great all around cleanser that you can use in the bathroom and the kitchen.
Lemon Essential Oil is in the following Aromatherapy Products: Anxious Roll On, Restless Massage Oil, Focus Inhaler, Thieves Oil Room Spray.
You can purchase Lemon Essential oil by Visiting my NSP Website. In fact it is part of their Essential Oil Starter Kit.
Remember to follow suggested safety practices when using essential oils.
References:
Battaglia, Salvatore. The Complete Guide to Aromatherapy. Brisbane: International Centre of Holistic Aromatherapy, 2003. Print.
"Essential Oils, Body Butters, Carriers, Hydrosols." Aromatherapy Pure, Organic Essential Oils | Aromatics International. N.p., n.d. Web. 30 Nov 2016. <https://www.aromatics.com/>.
Lawless, Julia. The Encyclopedia of Essential Oils: A Complete Guide to the Use of Aromatics in Aromatherapy, Herbalism, Health & Well-being. Shaftesbury, Dorset: Element, 1992. Print.