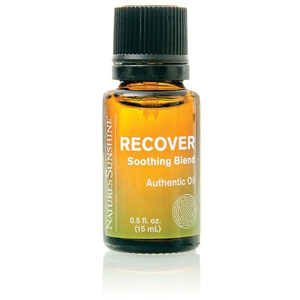 Recover Essential Oil Blend was designed to help the body find relief from tired and sore muscles.  Inflammation is one of the reasons our muscles become tired and sore. Inflammation can happen when you spent too much time working in the yard or you over did it at the gym. For those days, this blend works great. This blend offers a frosty scent with its wintergreen and camphor as well as a warming scent with its rosemary and frankincense. It is very soothing!
The Oils in Recover Essential Oil Blend
Wintergreen (Gaultheria procumbens): This oil is high in methyl salicylate. This relieves g muscular skeletal pain. Methyl salicylate is known to increase blood flow to an area by dilating the capillaries. This can also increase the warmth to an area. They say methyl salicylate acts similarly to aspirin offering analgesic properties when applied topically.
White Camphor (Cinnamomum camphora): This oil contains limonene. This is known for its anti-inflammatory benefits. Historically this oil has been used for muscular aches and pains and rheumatism.
Rosemary (Rosmarinus officinalis): Rosemary contains champhor and a-pinene. Both are known for their analgesic and anti rheumatic benefits.

Cajeput (Melaleuca cajuputi): Cajeput contains a high amount of 1,8 cineole. This is known for its analgesic, anti-inflammatory, anti-spasmodic benefits. It is highly effective for reducing pain and discomfort.
Fir (Abies sibirica): Fir contains bornyl acetate and promotes relaxation and reduces inflammation.

Clove Bud (Eugenia caryophyllata): Clove contains a high content of eugenol. Eugenol is used by dentists to help with inflammation.

Helichrysum (Helichrysum angustifolium): Helichrysum is one of my favorite oils and holds lots of benefits. It promotes the regeneration of skin cells, has analgesic, anti-inflammatory and anti-spasmodic benefits. It is great for helping to deter bruising.

Juniper (Juniperus communis): Juniper is another oil high in a-pinene offering analgesic and anti-rheumatic benefits to this blend as well as promoting circulation.

Peppermint (Mentha piperita): Peppermint is known for its menthol properties. Offering analgesic and anti-inflammatory benefits as well as its cooling properties.

Frankincense (Boswellia carteri): Frankincense is such a wonderful oil offering many benefits. For this blend, I am sure they took into accounts its high content of a-pinene.

Using this Essential Oil Blend

This blend works great for various types of muscular aches and pains. I like to use it best mixed in a roller ball or with some unscented lotion and then applying it to the area I have discomfort in.
To create the lotion add 24-32 drops of Recover Essential Oil Blend to 2 ounces of unscented lotion. Its super simple!
To create a roll-on blend add 8 – 10 drops of Recover Essential Oil Blend to a 10ml roll on and mix with Jojoba or Almond Oil.
Apply the roll on or lotion to area as needed.
To purchase Recover Essential Oil Blend, please visit my NSP Website.
Remember to follow suggested safety practices when using essential oils. This essential oil blend can be somewhat strong. It is best to avoid using this blend with children, if pregnant or nursing. You may also want to use caution if you have epilepsy or high blood pressure. If you have a medical concern, please consult with your own medical professional.
References:
Battaglia, Salvatore. The Complete Guide to Aromatherapy. Brisbane: International Centre of Holistic Aromatherapy, 2003. Print.
"Essential Oils, Body Butters, Carriers, Hydrosols." Aromatherapy Pure, Organic Essential Oils | Aromatics International. N.p., n.d. Web. 30 Nov 2016. <https://www.aromatics.com/>.
Pressimone, Jennifer. Holistic Aromatherapy Comprehensive Guide, JennScents, Inc: 2015. Print.